Kids in Motion
2 Hours of free childcare everyday... ENOUGH SAID.

The dreamy "Under the Sea" theme comfortably embraces children with wonder and excitement.

Monday – Friday 8:00am – 8:00pm, Saturday & Sunday 8:00am – 2:00pm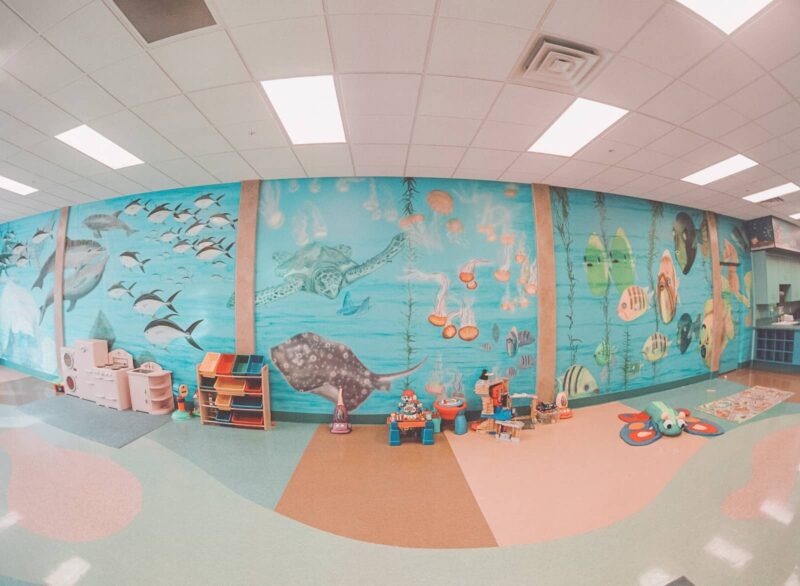 Childcare with an Ocean View
Sure the facilities are great... but it's our staff and programming that makes us so unique. It is our goal to offer your children exemplary care when visiting Kids In Motion. Kids In Motion provides a fun, safe and welcoming space for your children ages 6 weeks to 12 years old. We select activities that are entertaining, educational and developmentally appropriate for your children. We keep your children ACTIVE with fun activities such as programs and games time at the BIG GYM and much more. Daily crafts follow a theme of the week.
Kids In Motion includes:
Safety and Security FIRST! This includes a double gated entrance and exit area with NO EXIT unless with an adult.
Multiple Security Cameras in the facility and 1 video monitor on the fitness floor to observe your children while they are playing.
Dedicated Infant Room for babies ages 6 weeks to 12 months.
Dedicated Toddler Room for children ages 12 months to 24 months.
HUGE Arts and Crafts area.
Large quiet activity and table activity area.
Exceptional Programming
Families keep coming to Kids In Motion because of our amazing programming for children of all ages. Our energetic programming helps to promote good health and fitness while having fun. Our goal is to have your children lead active and healthy lives. We know your children will love the programs and develop new friendships along the way. See below for a list of programs we provide.
Kids In Motion offers Awesome Obstacles during school breaks and on rainy days throughout the year. This fun physical activity is something kids look forward to.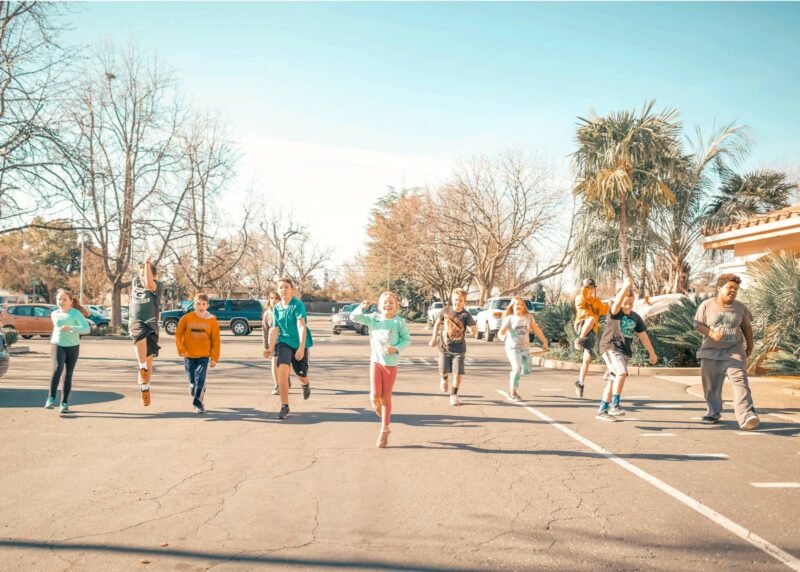 Our programming includes a craft of the day. These fun, age-appropriate crafts are found on the Kids In Motion calendar.
Story time is a great opportunity for your children to socialize with other young children while developing communication and cognitive thinking.
Our most popular program is Kids Night Out. During Kids Night Out, parents can leave their children in our care while they spend the next 3 hours going to a movie, having a quiet dinner or just having a relaxing evening at home. Each Kids Night Out follows a fun theme. The children will have fun doing crafts, playing games, having dinner and dessert and then ending the special night with a movie. For more information such as upcoming themes and dates please check our social media.
Fun-damentally Safe
Sure the facility is heavenly and fairy tale like, but it's our exemplary staff and programming that keep kids (and their parents) coming back for more. We select activities that are entertaining, educational and developmentally appropriate. Kids In Motion takes your child's safety by having different areas designated per age group.
Our infant room is for children ages 6 weeks to 11 months old. We provide saucers, swings, a soft structure, infant toys and books and lots of love for these special little ones. We try to offer a quiet and safe place away from the busy feet of crawlers and walkers. We ask that you remove your shoes or use the provided booties before entering the infant room.
Our toddler room is for children ages 12 months to 23 months. This fun area offers age appropriate toys, push and ride on toys, crawling structure and a slide.
A club for kids 7 and older. Kids in this club can play board games, video games such as Wii and PlayStation, and age appropriate crafts.
Our main facility area is for children ages 2 and over. In the front area children can enjoy some sit down activities at our learning stations and an age appropriate reading area. In the middle area we have the amazing art station, snack area, puzzle area as well as other fun table activities. The back is for active play with cars, trucks, dinosaurs, a kitchen and more.
You and your children will be checked in with a smile and a warm hello. You can feel secure knowing your child is protected by a three door security system door between Kids In Motion and the parking lot. And finally, no one is allowed entrance into Kids In Motion from any area without being checked in with the scan tags for safety.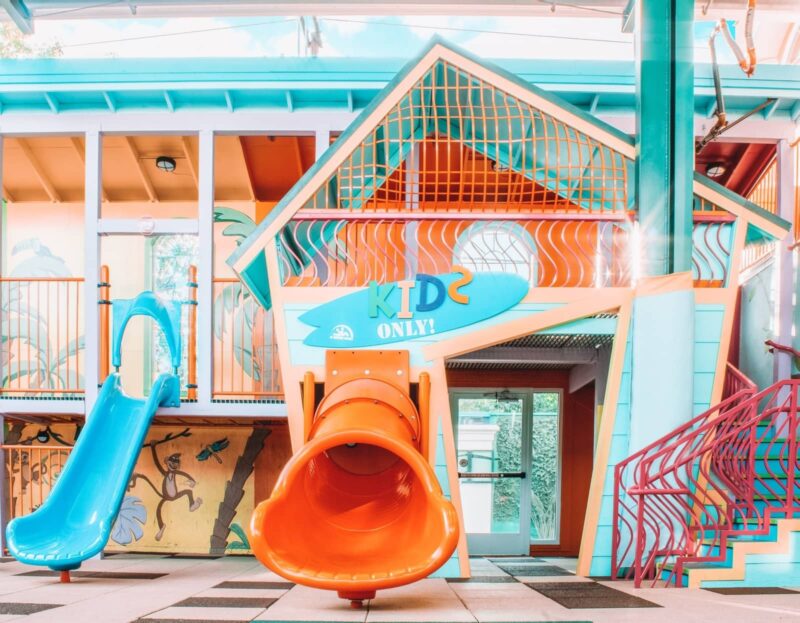 Outdoor Play Structure
A playground designed by kids for kids.
Your children can enjoy fresh air while playing at our Kids In Motion enclosed play structure.
Kids in Motion Guidelines
Children on your membership receive two (2) hours free of childcare per day.
A third (3rd) hour can be purchased for $4 per child, payment due at check out.
Guests are welcome when accompanied by a member of the club with $5.00 for a maximum of 2 hours of childcare.
Guest Fees are due prior to leaving the child in Kids In Motion.
Guest Fee includes childcare only, please contact Customer Service for day usage fees for non-members
Kids in Motion is a first come, first served childcare Facility.
Kids in Motion has a max capacity for each age group:
Infants 8: Ratio 4:1
Toddlers 18: Ratio 6:1
2yrs or older 75: Ratio 12:1
These numbers may vary depending on time of day.
Introduce yourself and let the front desk person know it is your first day
Fill out the online registration Family Packet prior to your first visit
Bring with you the completed KIM Family Packet or request one upon arrival
Ask for a name tag for your child
Members may only use Kids In Motion while utilizing club services or tenant services of In Motion Fitness.
Members MAY NOT leave the premises while their children are in Kids In Motion.
Members, at all times, will make themselves available to Kids In Motion staff when needed.
No child may be left at Kids in Motion without an attendant on duty.
All individuals entering Kids In Motion (this includes adults and children) will be required to show their scan tags for proper check in. Alternate form of picture ID will be accepted.
All individuals will be required to have a picture on account to verify check in.
A class where kids can learn safe and proper exercise techniques with specifically designed fitness programs.
To learn more, contact Lori Pine at 530.343.5678 ext. 128.
SwimFit is a 30 minute session that reviews pool rules and makes sure your child is ready to swim in the lap pool. Your child will take a 100 yard swim test including 2 laps freestyle, 1 lap backstroke and 1 lap breaststroke.
North Valley Swim School offers year round lessons at In Motion Fitness. The water is always warm, 88 degrees. Clients may begin lessons at any time. We have helped children as young as 6 months and mature adults reach their swimming goals through lessons.
North Valley Swim School is the only accredited swim school in the entire North State Area.
Got Splash? 15 invigorating water features for endless entertainment and activity. Come see Hot Lips, our kiddie car wash and more. It's a mini water park at In Motion.
Relax, refresh and play in a pool surrounded by lounge chairs, palm trees and tables. Perfect for fun family times. Located next to the Kids Splash Park.
Always 88°. Unique Outdoor/Indoor Design.
Covered pool with 30 skylights. No sunburn. No rain. No chemical smells. 65+ FREE aquatics classes offered monthly.
Quiet Adult Time - Water Walking & Swim
Enjoy this tranquil time to yourself to exercise and use this aquatics pool with little distractions.
Family Swim
This is a special time set aside for families to enjoy the pool.
Families can enjoy the family spa, kept at 99° which is open to children accompanied with their parents. Adult spa is kept at 103°.
Enjoy a full court basketball gymnasium in the center of In Motion Fitness. Featuring NBA rims, backboard and pulsonic shock absorbing floors.
Adult Only Play Time
Monday - Friday: 4:30pm - 10:00pm
Saturday: 2:30pm - midnight
Sunday: 3:30pm - midnight
Family/Individual Play Time
Monday - Friday: 9:30am - 10:30am
Saturday: 10:30am - 12:30pm
Sunday: 1:30pm - 3:30pm
OPEN 7 days/Week: 6:00am - 10:00pm
Safe. Secure. Well Lit.

Dazzling colored RGB light show every morning and evening,
Soak up the sun. Enjoy fresh air, the elements and nature every day.
In Motion offers a strength and conditioning program designed for 8-14 years old athletes and non-athletes alike. The program combines age-appropriate weightlifting and gymnastics with high intensity training to deliver optimal fitness and performance, as well as establish a lifetime love of fitness. Proper weightlifting techniques are taught, under the watchful eye of our trainers, to enhance strength and power, while also focusing on basic gymnastics to increase agility, mobility and flexibility.
Call 530.343.5678 ext. 223 for more details.
Check your Kids into KIM, then relax at the cafe, lounge by the pools, unwind in the steam room, sauna or jacuzzi. Repose with facial or massage at the day spa, enjoy privacy in the executive locker room. Chillax with a walk on the track or take a meditation class. Tranquility of mind is essential to your well-being.
We bring imagination & innovation to your fitness journey
Internationally acclaimed and locally voted Chico's best health club for 29 years and running.